Building a bridge to reach your wealth goals
It's quite simple, we identify where you are today and where you'd like to be in the future, it's our job to support you in achieving reaching those goals so you can live the lifestyle you want.
As part of our relationship, we will work together to identify and put in place a plan to protect, accumulate, grow and manage your wealth. We will also be there to ensure that this plan remains flexible and responsive to adapt to your changing needs. Reviewing your wealth plan regularly will help us continue working towards your long term goals, whilst also helping you achieve your short and medium term goals.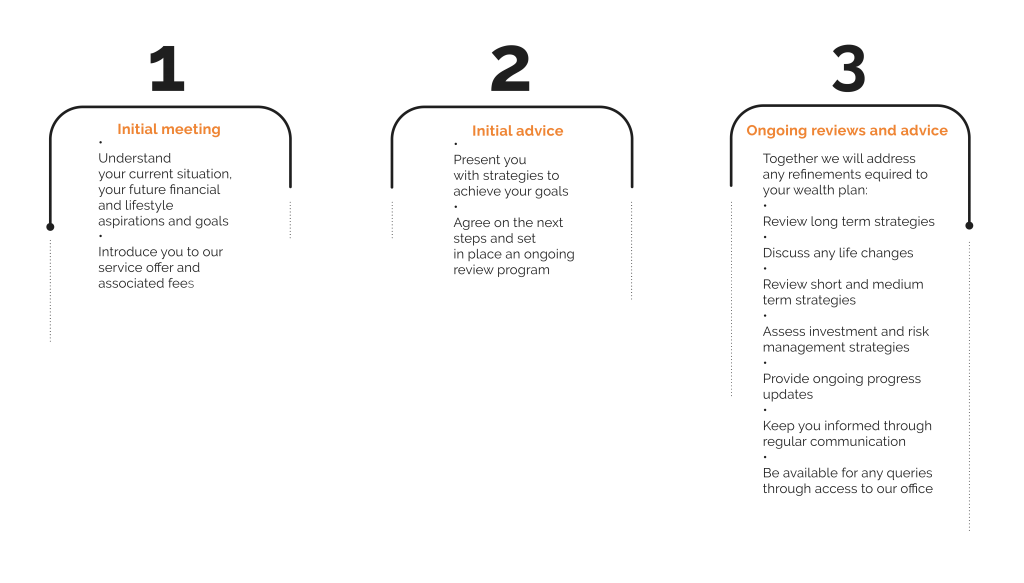 Designing strategies to achieve your goals
In stages one and two, we hope to identify your objectives and design a wealth plan that delivers results to achieve your short, medium and long term goals. Following these initial steps, an ongoing review program is necessary to ensure your strategies are tracking well towards your goals. Based on the wealth plan, we will consult you to arrive at an agreed ongoing review program specific to you.
There may however be times where certain changes in life prompt us to review your objectives and put in place new strategies. This could result in us having to revisit stages one and two in order to relook at your overall wealth plan.
What is an ongoing review program?
An ongoing review program is a structured and disciplined process in place to review your wealth plan. Many variables can change overtime having significant impact on your wealth plan:
Your financial situation (e.g. employment, income levels, debt levels, marital status)
Legislative changes and taxation environment
Economic environment
Centrelink changes
Investments and fund manager performance
Which is all the more reason why you must reassess and evaluate your strategies on a regular basis.
Strategic advice
Ongoing reviews allow us to check if you are tracking well towards your goals. Following the review, any additions or changes to the strategies to get you back on track are discussed and documented.
Investment choice and risk management
Based on your wealth plan and your commitment to the ongoing review program, we determine how actively the portfolio will be administered. This is also the case in determining the amount of focus on insurances when considering personal and business needs.
Reports
Ongoing reports on your investment portfolio will provide you with clear analysis on the performance. You may receive individual as well as consolidated reports based on your review program. This is also important in the case of insurance to ensure that you are aware of the insurance covers in place which may need adjustments based on ongoing changes in your life.
Ongoing communication
A vital aspect of ongoing reviews is to keep you informed of opportunities and issues that may affect your wealth plan. We hope to continue to educate and provide you with valuable information that will benefit your knowledge and understanding around your financial health.
Access to our office
Our team of professionals are available for ongoing queries and assistance with your current wealth plan or any other aspect of your financial well being.
Behind the scenes
There is a lot of work that goes on behind the scenes, this workflow diagram gives you insight as to the steps involved.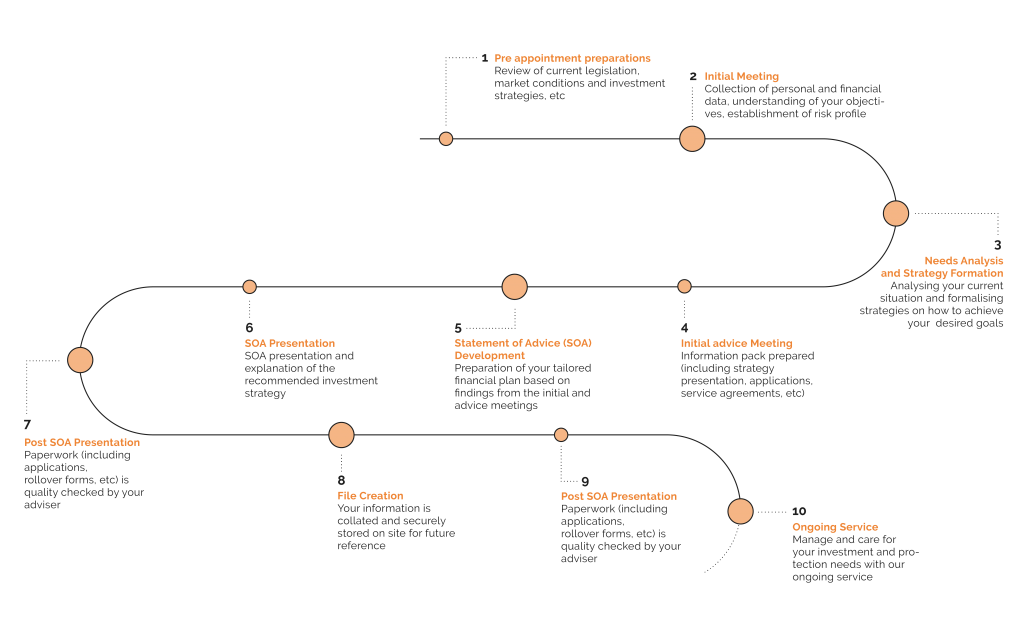 SIGN-UP FOR OUR NEWSLETTER